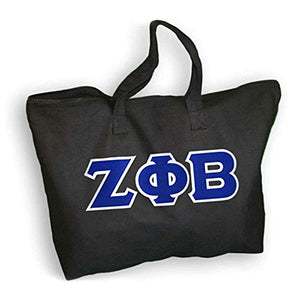 Brand: Greekgear
Color: Black
Features:
Tough Materials – Our sorority tote bag will continue to look new and last a long time, thanks to the fabrics we've used
Secured Items – With the zippered closure at the top of the tote bag, you don't have to worry about items falling out
Comfortable to Carry – The Greek tote bag has a handles, as well as a loop so you can attach a keyring or a lanyard
Sorority Name on Front – Your sorority's name is embroidered across the front of the tote in a script lettering
Largest Online Greek Retailer – We have more than 20 years of experience selling officially licensed Greek products online, so you can trust the quality of our gear
OFFICIALLY LICENSED - This Greekgear product is officially licensed. This means your group has approved this product and design. We give a portion of the sales back to the organization.
model number: IHO-SIM-NEW-StitchZetaPhiBetaLetteredTot
Part Number: IHO-SIM-NEW-StitchZetaPhiBetaLetteredTot
Details: The Zeta Phi Beta Tote Bag is perfect for everyday use. The 12-ounce, 100 percent cotton bag features a roomy interior, reinforced handles and an attractive design that's hard to resist. The durable canvas bag is adorned with 4-inch high twill letters that are "sim-stitch" on the front. "sim-stitch" letters have the look of sewn letters, but are heat applied to keep costs low. The letters are blue and white to match the official colors of the Zeta Phi Beta sorority. A zippered closure complete the design and keeps the bag's contents secure. Dimensions: 22" W x 15" H x 5".